Welcome to D & J Recording studio,
home of the band DoD, formerly DMR.
Inspired by the guitar greats, Jimi Hendrix and Joe Satriani, utilizing the latest digital technology and combined with classic, vintage recording equipment, Don Hammock's small privately owned recording studio features quality equipment in a cozy, home type environment with all of the amenities. Don uses nothing but the best equipment and balanced AC power for recording, editing and mastering all of his recordings. The list of equipment includes Focusrite Red, Millenia Media, Tascam, Universal Audio, UREI, Teletronix, Eventide and Equi=Tech Balanced Power Systems. D & J Recording Studio uses 48 track Pro Tools on a custom 3.4 GHz, 800 MHz FSB, Firewire/SATA computer.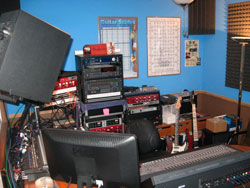 The studio has recently added a Tascam MX2424 and DV-RA1000HD for recording 24 tracks simultaneously and providing a professional quality master CD or Super Audio CD with PCM and DSD recording capabilities for the masters.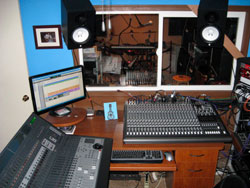 Don converted 2 bedrooms in his home into a Control Room and Recording Room. D & J Recording Studio also utilizes a superb acoustic design great for live recordings and was primarily set up for recording bands live, with total isolation between the tracks recorded by the musicians. The studio uses the Roland TD-10, V-Drum electronic drum kit, Palmer/Marshall speaker simulators for the guitars and Avalon U5 for the bass, along with the finest vintage gear and the latest digital technology. This enables Don to record a band live and have absolutely no bleed-over on the individual Pro Tools tracks.